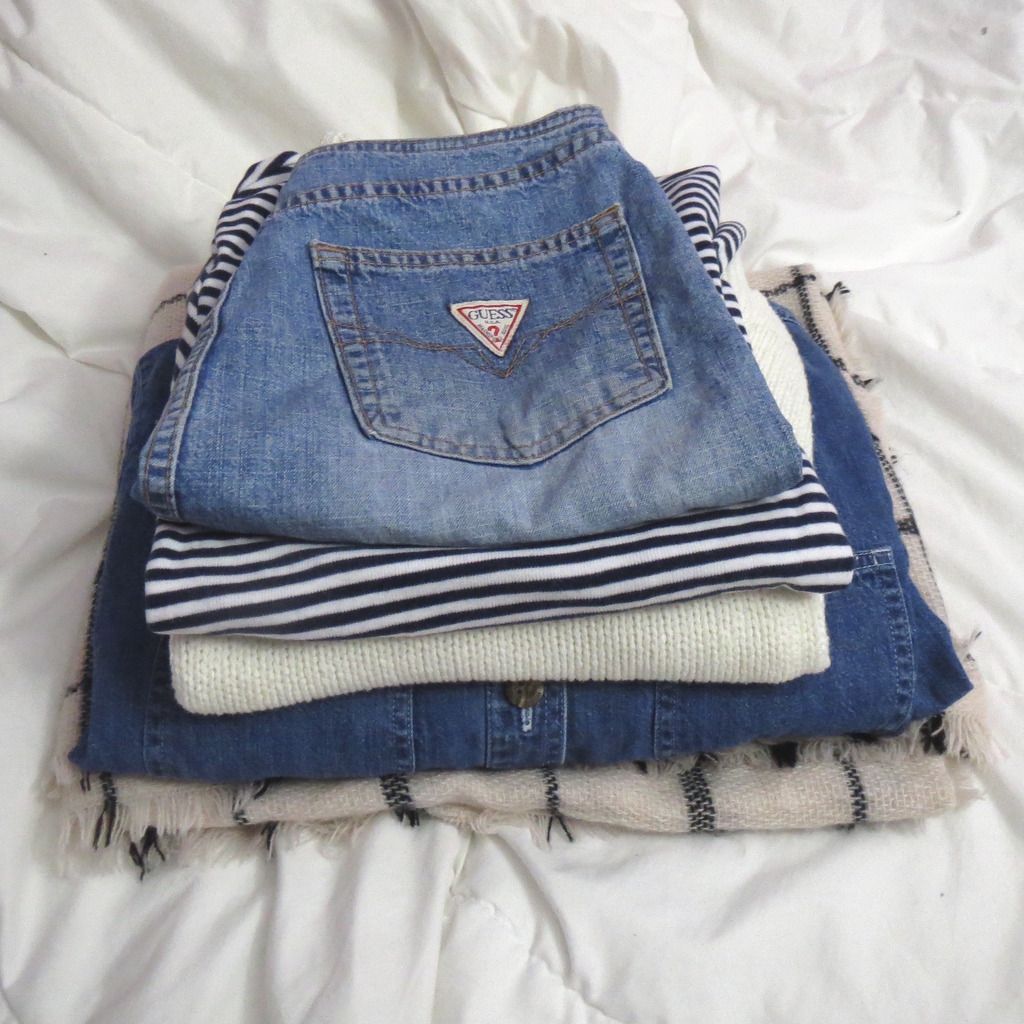 Spring is in the air in RVA (for the next few days at least).  We're in the upper 60s and 70s so all I'm thinking about is off the shoulder tops, cutoff shorts, and denim dresses.  Now that I'm in school, most of my money goes to tuition and textbooks.  So, I don't have much left for any shopping.
After doing a bit of online window shopping (like six hours worth), I've concluded that I would like to buy every item that Madewell has to offer.  But that would require having a few thousand dollars in my bank account that I can spend on clothes.
Instead of sitting around and sulking at my bank account, I'm heading to the thrift store to thrift Madewell inspired pieces.
The 7 Classic Madewell Pieces
Chunky sweater
Scarves
Denim dress
Denim Shirt
Skinny Jeans
Basic T-shirts
Denim Jackets
How to Thrift Madewell Inspired Pieces
As with all thrifting trips, you need patience.
Chunky Sweater
I've been in love with Madewell since Alexa Chung's first collab with them.  The Madewell style is classic and chic.  And I'm in love with everything.  There newest designer Joyce Lee Rose has designed some amazing pieces.  Hopefully, I'll be able to save up for those!!!
Rant aside, let's get started with the "juicy stuff," AKA the seven pieces you can always find at Madewell.  The first thing we're going to talk about is the Chunky sweater, which is a winter essential (Especially in the 20-degree weather we have in RVA).  It's great for layering over maxi dresses, denim dresses, or just a pair of jeans.  Throw on an oversized hat and you'll have a Rachel Zoe approved outfit.
Scarves
Blanket scarves, square scarves, knit scarves, or skinny scarves, add the perfect pop of color or texture to any outfit.  And you can find a TON of them at the thrift store. I am currently in love with the plaid blanket scarves from Madewell. They go with everything from t-shirts and jeans to dresses and skirts for the winter.
I've been in love with the Madewell brand since Alexa Chung first collaborated with them in 2011. Alexa Chung has been rocking the skinny scarf since 2015 and I'm obsessed.  It's definitely on my thrift store treasure hunt list.
Denim Dress
One of my favorite pieces from Madewell is their classic denim dress.  It's perfect for layering and even looks chic on its own.  The denim dress looks great with ankle boots or a pair of sandals. There are always a TON of denim at the thrift store. After a few trips, luck will come and you'll be able to thrift Madewell inspired pieces for a fraction of the price.  I got my denim dresses for $7 each and a great linen tunic (that looks like denim) for $5.  I love great deals.
Denim Shirt
In order to thrift Madewell inspired pieces, you need to have a style and color in mind.  This will help you navigate the aisles of clothes at the thrift store more efficiently and maximize your chances of finding that classic piece!
When you're talking about classic pieces, you can't forget about the denim shirt.   It's perfect for business casual days at the office or an easy weekend look.  There are a ton of denim shirts at the thrift store.  While you're looking through aisles, pick up shirts that aren't typically your size because you never how shirts fit especially if they're vintage or been shrunk in the wash by the previous owner.
Skinny Jeans
These are definitely a wardrobe staple.  They are perfect for tucking in to boots or worn with converses for an easy casual outfit. Skinny jeans are so versatile.  You can dress them up with a blouse and heels or dress them down with a comfy t-shirt and sneakers.
Thrift stores are overflowing with jeans.  If you're thrifting for skinny jeans, then block out about three hours for your thrifting trip because you're going to be browsing many aisles and trying on many pairs before finding a select few that fit.
BUT it's totally worth it because I've scored jeans for $2 that fit like a dream!
Basic T-shirts
With thrifting, you sometimes hit thrifting gold and you find everything you're looking for and sometimes you find nothing.  But don't be discouraged.  Go to another thrift store or go back another day because there is always new items being placed on the shelves.
I love shopping for t-shirts at the thrift store.  They have a ton of cool graphic tees and plain tees.  Most of the time, the tees are color coordinated so walk in to the store with a color in mind and you'll have a much easier time going through the aisles.
Denim Jackets
This last item is very hit or miss at thrift stores but with a little bit of patience, you'll find the perfect one.  It took me a month to find my perfect one but I found it!  The jacket was only $7 and it was in the perfect wash.  I'm now on the hunt for a black denim jacket.  Wish me luck!
And that's it for my guide on how to thrift Madewell inspired pieces at the thrift store.  It's fun and super easy, you just need a bit of patience.
Tell me down below, what you're favorite thrift find is!
For more awesome posts on this AMAZING Cinco de Mayo,
check out VA Blogger's Friday Link-UP!