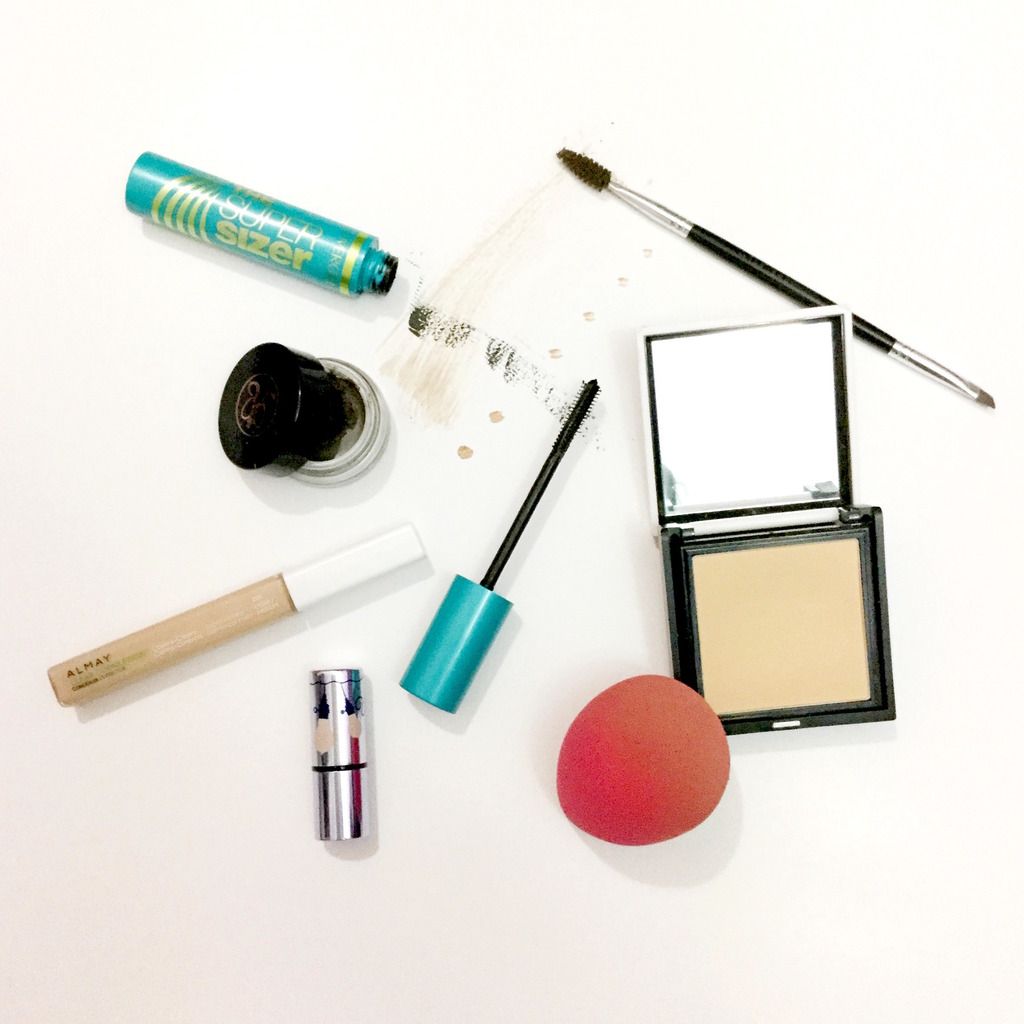 The heat index in RVA has been breaking a 100 degrees fahrenheit every, single, day this whole week.  So, my normal winter foundation routine is just not cutting it.  In the winter, I loved using my PUR cosmetics hydra-fluid foundation.  This stuff is amazing for dry skin and never leaves me looking patchy.  But in the summer, this finish is just too dewey.  Summer makeup, for me, supposed to look natural and light, while also being sweat-proof. So, here's the best summer makeup routine for acne-prone skin.
The Basics: Summer Makeup Routine
The first step to any summer makeup routine or any makeup routine for that matter is moisturize.  Prep your face for makeup.  And since the sun is blazing, remember to put on sunscreen!  Prevention is key for radiant skin.
The second step (another super important one) is primer. You HAVE to have primer.  Seriously, it's summer.  It's hot and you're going to sweat, so your makeup will start moving within the hour.  Trust me, your perfect highlight and contour will soon be a muddled mess.  To prevent that from happening use a primer.  A good primer will keep your skin looking flawless and lock in all your hard work.
The third step requires a little skill.  Don't worry, it's just a little.  For the summer, you want a more natural look since cakey makeup would slip and slide too much in the heat.  However, if you have a breakout, a natural foundation generally has less coverage too.  So, keep reading to find out my secrets on concealing a zit.
Best Way to Conceal a Zit
When you have a breakout, it's super easy to just cake on concealer to cover it up, but that actually makes the breakout even more noticeable.  The best way to conceal a zit is to treat it then cover it.  I apply tea tree oil to all my problem areas, then I go in with a light moisturizer.  Once my face is nice and hydrated, I apply a good primer to blur out my pores.  After my primer, I start dotting concealer over my problem areas.  Once those are covered, I take a CLEAN and dampened beauty blender to blend the concealer in to my skin.
After my concealer is blended in, I take my dampened beauty blender and blot it over my compact foundation.  I'm currently using the Hello Oxygen Compact and it does a fabulous job of evening out my skin and decreasing redness.  PLUS, this stuff sticks!  My foundation was still on even after three hours of pokemon hunting.  If you play Pokemon GO, then you now this foundation is seriously AMAZING!
My Summer Makeup Routine + Products Used
To help treat and prevent more acne, I'm using my favorite Almay concealer with salicylic acid.  I take the concealer and dot the center of my face, sides of my nose,and over any blemishes.  Once my face is covered in little dots, I take a damp beauty blender to blend it in.  After I'm done, I seal in my handy-work with my Hello Oxygen Compact.  This combination feels light on the skin and leaves you with a matte finish that lasts all day.  Plus, the compact has SPF!  WIN!!!
I finish off this foundation routine with Benefit's WATTS UP highlighter on the bridge of my nose and under the eyes for a natural glow.  And if you have thin or non-existent eyebrows, I definitely recommend using the Anastasia Dip Brow Pomade.  This stuff lasts all day and a little really does go a long way.  I grab a little product on my brush and line the bottom of my brow.  And using the little spool side, I brush out the product.  This technique gives a nice natural looking, full brow that lasts all day (which is key because when I'm out and about in the summer I don't want to worry about touch ups). Finish the look off with a little mascara and you'll have the perfect natural makeup look that won't break you out!
What's your favorite summer products?