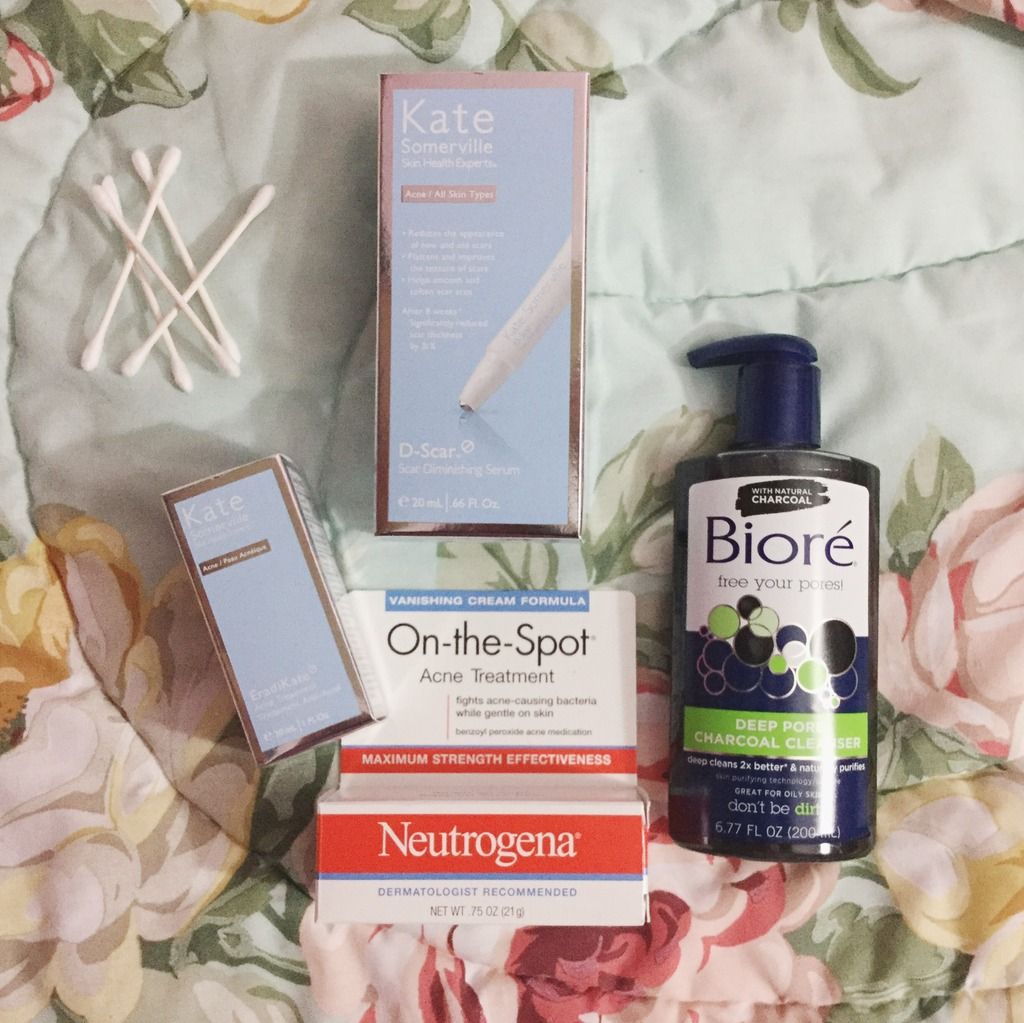 These passed three months have been rough.  I got huge blemishes all along my jawline and some large spots on my cheek and forehead.  They were everywhere!  After a week, these blemishes turned cystic and were impossible to cover-up with makeup.  I needed an Acne-fighting treatment, bad!
My Favorite Acne-fighting products:
Neutrogena Spot Treatment
Biore Charcoal Cleanser
Kate Somerville Eradikate Sulfur Treatment
GlamGlow Supermud Clearing Treatment
Neutrogena Spot Treatment
I stopped using Epiduo five months ago.  I replaced that benzoyl peroxide cream for the Neutrogena spot treatment.  And it worked for quite a bit.  This Neutrogena acne-fighting treatment has 5% benzoyl peroxide so it's strong enough to treat my blemishes without trying out my skin.
Eight months ago, I stopped using my dermatologist prescribed sulfur cleanser and replaced it with the AcneFree Therapeutic sulfur mask.  It worked pretty well and my skin was pretty clear.  I didn't have any serious breakouts.
But three months ago, I ran out of the AcneFree mask and decided to use the Peter Thomas Roth Sulfur mask.  This mask dried out my skin.  And I had patches of flaky skin.  But that didn't bother me too much cause my breakouts weren't that bad.
Eradicate Sulfur Treatment
Then out of nowhere, I started having these huge blemishes along my jawline.  And its been six weeks since I discovered the Kate Somerville Eradikate Sulfur treatment in Sephora.  This stuff is amazing! This acne-fighting treatment contains 10% sulfur.  So, my blemishes are less inflamed and swollen overnight!
After using this treatment everyday on my jawline, I'm happy to say that the blemishes are finally going away.  My skin finally feels soft and smooth again!
However, the spots left me with terrible hyper-pigmentation, which I'm currently treating with Kate Somerville d-scar serum.  I'll update you on how that's going in a few weeks!
For my nighttime skin routine, I wash my face with the Biore Charcoal Cleanser. After washing, I apply the Neutrogena Spot treatment on my spots and then moisturize with my favorite Cerave cream.  Once my face is hydrated, I apply Kate Somerville's Eradikate to the large spots around my face.  And I'm done!
Stay tuned for my Morning Skin Routine, coming soon!