It's officially spring!  (Throws petals in to the air) So, music festival season is around the corner.  Be prepared this year by scoring the five pieces you need this summer.  I'm here to tell you that Music festival fashion on a budget is possible.  You just need to shop early and get in on those mid-season sales (before they sell out). OR if you're a little lazy and prefer shopping while laying in bed, then I have the PERFECT solution for you! Keep reading to find my fashion secret.
The Seven Pieces You Need This Summer
Glamorous sheer tunics
Fringed kimonos
Distressed cutoff shorts
Comfy platform shoes
Sporty crop tops
Super cute sunglasses
A fabulous Hat
First on the list are sheer tunics.  They are perfect for layering over crop tops or a cute bralet.  They prevent your skin from being overexposed to the sun.  Plus, they're super light and won't make you sweat in the summer heat because we all know that is not a pretty sight.
Pair your sheer tunics with a great belt and a large hat with some fabulous sunnies for a picture perfect Rachel Zoe approved outfit.
The next item on your packing list has to be a great kimono.  It's going to get cooler in the night, so a kimono or maybe even a denim jacket depending on the climate is a very necessary item to pack.  Kimonos are light and add texture and interest to your tee and cutoffs outfit.
A floral fringed kimono is basically the most beautiful and perfect festival piece.  You can even wear it to the beach or the pool as a cover-up!
Next on the list are cutoff shorts because who can live without these in the summer?  They go with everything from crop tops to tees to blouses and everything in between.  Plus, they also look great under long tunics and short dresses too!
Now, if you're a short girl like me then platforms are a must-have music festival fashion item.  These can come in the form of sandals, boots, or sneakers.
No summer wardrobe is complete without crop tops. You can style your favorite one with high waisted shorts, a ruffled skirt, or even a classic denim skirt.  Throw a kimono over your outfit and you're festival ready!
Grab your favorite sunnies and a large brim hat because you're now Instagram and Festival ready!  #outfitgoals
Music Festival Fashion on a Budget
Many of us are on a budget, so try shopping online for a great deal!  Currently, I've been obsessed with Tophatter.  They have a TON of great items for less than $25 including shipping!  If you love EBay shopping then you'll love this.  Tophatter will actually notify you when bidding starts on your favorite items.  But if you're impatient like me, you can also buy the items at the listed price.  I'm in love with this floral tunic I got from them.  It goes so well with denim shorts and a pair of strappy sandals.  The sheer fabric shows off my bralet in the most flattering way.
What do you think?
I also got this kimono from Tophatter.  Guess what? It was less than $15 and it is gorgeous, right?  It looks great with skinnies in the spring and fabulous over a dress once the weather starts warming up in RVA.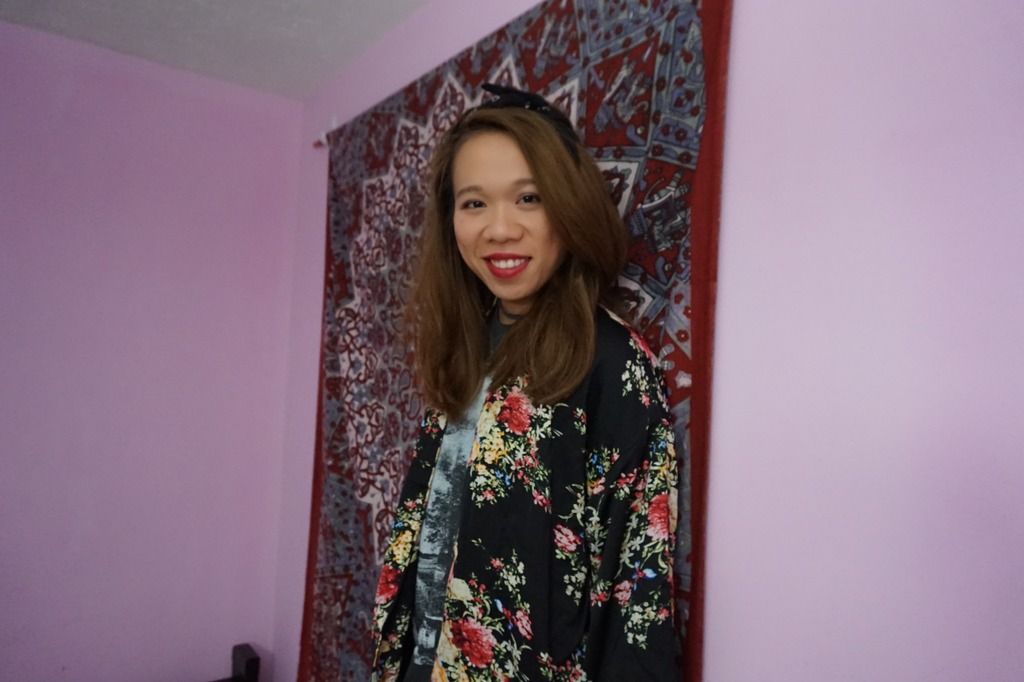 What's your favorite way to style a kimono?
Music festival fashion on a budget is possible guys, especially if you're willing to go digging for treasure at your local thrift store.  With thrifting, you'll never know what you'll find.  The thrift store is one of my favorite places to find jeans and cutoff shorts.  You can get your next favorite pair of high waisted shorts for less than $5!
When you find a super cool graphic tee at a thrift store, you can easily make it into a crop top or tie the hem in to a small knot for the perfect fit.  Remember music festival fashion on a budget is totally attainable if you use a little imagination and innovation.
Whether you're going to a festival this year or staying at home these pieces are the perfect way to beat the summer heat in style!
**Disclaimer: I received the red sheer tunic and kimono from Tophatter for a discounted rate.
All opinions expressed are my own.**