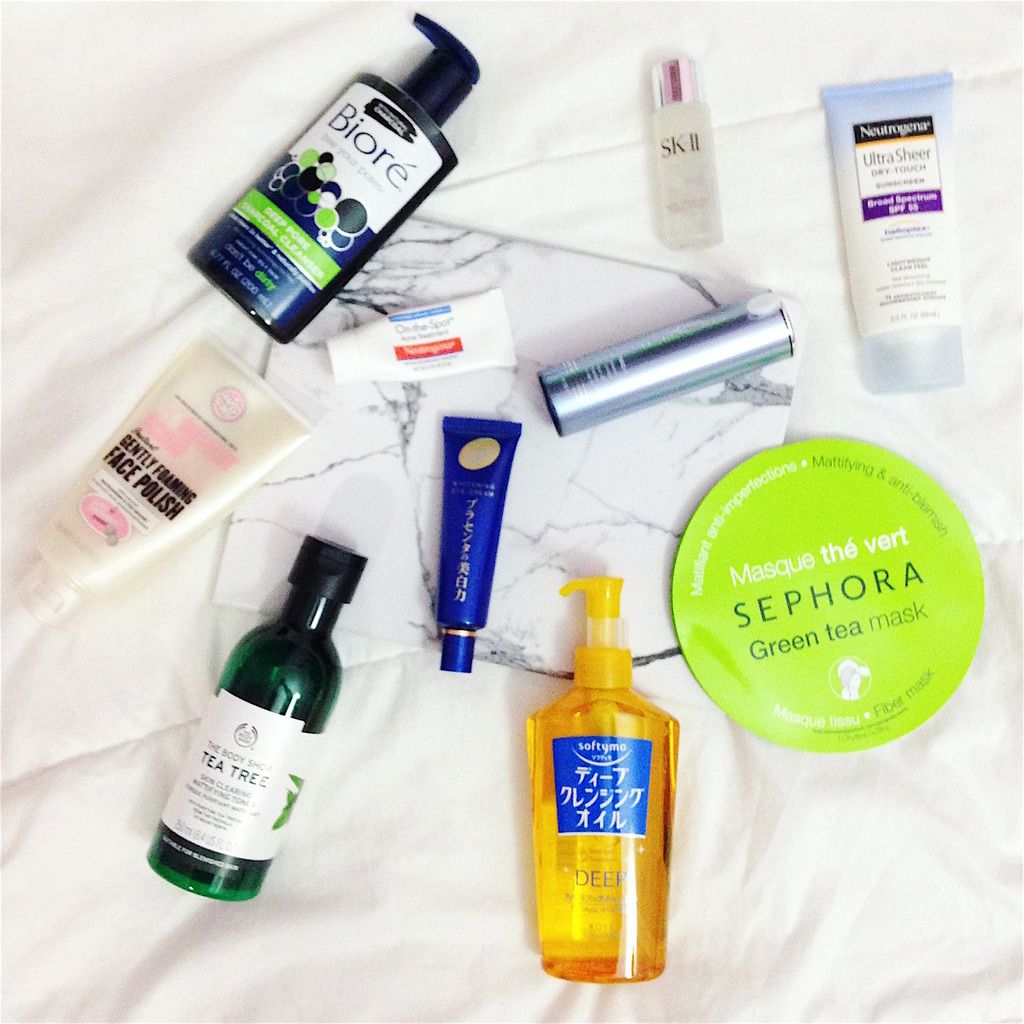 Normally, I'm all for the 3 step skincare system: cleanser, spot treatment, and moisturizer.  And I have been a huge supporter of this lazy skincare system for years now.  Until recently, those few steps were enough to keep my skin clear and kind of soft.  (I was terrible at remembering to exfoliate…)
But with stress from work and school combined with my three hours of beauty rest every night, my skin is far from clear or soft.  So, I decided to try out the 10 step skincare system.
What is the 10 Step Skincare System?
The founder of SOKO glam, Charlotte Cho, wrote a book called The Little Book of Skincare, where she explains the importance of replenishment, hydration, and exfoliation.  She recommends people of every skin type to use a non-stripping cleanser because oily skin is usually the result of dry skin trying to replenish itself with sebum.  With excess sebum, pores will clog and your skin will break out and blackheads will emerge.  Charlotte emphasizes the importance of hydration because hydrated skin heals better and hydrated skin is more even toned and smooth.
In her book, she lists out 10 steps:
Oil Cleanser
Water Cleanser
Scrub
Toner
Essence
Serum
Mask
Eye cream
Moisturize
SPF lotion
The Importance of Double Cleansing
So, you might be wondering, "Why are there two cleansers?"  Well, Koreans really believe in clean skin.  Double cleansing will help you remove all your makeup from the day and really clean your pores.  First, the oil cleanser breaks down your makeup and cleans your skin without stripping it of all its natural oils.  Second, the water cleanser cleans deeper in to your pores to make sure that there is no makeup residue left.
By double cleansing, your skin will be cleaner, have less clogged pores, and have smaller pores.  Pore size is reduced because there is no GUNK stuck in them!
Why Should I Exfoliate?
Exfoliating is an important step in keeping pores clean, your face smooth, and your face more even-toned.  The reason why exfoliating works is because the process of exfoliating removes dead skin cells.  As a result, your skin looks more radiant and even toned.
There are two types of exfoliation chemical and physical.  Chemical exfoliations are more gentle while physical exfoliation involves sugars or tiny micro-beads and can irritate the skin because of the physical abrasion.
Personally, I use a chemical exfoliant every two days and a physical exfoliant about twice a month.  This routine has helped my cells regenerate quicker and my acne scars to heal faster.  My skin also feels smoother and looks more even-toned.  If this routine irritates your skin, try exfoliating every three days.  Skincare needs to be catered to your skin, so do what's best for it.  Plus, after double cleansing and exfoliating your skin will be better prepped for essence and serums.  Because your skin is clean, it can absorb products better.
The Importance of Hydration
Hydrated skin is healthy skin.  This is the reason why there are 7 steps dedicated to hydration in the 10 step skincare system.  Toner is used to hydrate and clean whatever residue is left on the skin after double cleansing.  After wiping your face with a cotton pad soaked in toner, apply an essence.
Essence is a light lotion.  It absorbs quickly in to the skin and gives it a good dose of hydration.  Once the essence absorbs into your skin, apply a serum to your face and neck.
Serums are a concentrated solution that hydrates and nourishes your skin with vitamins and minerals such as Vitamin C and hyaluronic acid.
To really nourish and hydrate your skin, you need to invest in a good sheet mask.  A sheet mask is a paper mask that is soaked in serum.  You take it out of the package and unfold the mask.  Once you have carefully unfolded the mask, place it over your face and leave it on for 15-20 minutes.  Plus, the mask really helps your skin absorb the serum and lock it in.
The Importance of SPF
After doing all that work, you have to protect your skin from UV rays with a good SPF lotion.  UV rays can damage skin cells which causes pre-mature wrinkles and discoloration.
Once your applied your SPF, you can continue with your makeup routine.  Trust me, your makeup will actually go on your skin better because its smoother.  BONUS!

The Products I Use
Since I have acne-prone skin, I customized the perfect 10 step skincare system for my skin-type.  The ten products I use are:
Garnier Fructis Oil Cleanser
DermaE Purifying Charcoal Cleanser
Soap and Glory Scrub Your Nose In It
The Body Shop Mattifying Tea Tree Toner
SK II Facial Treatment Lotion
LumaPro-C Skin Brightening Pigment Corrector
Tony Moly Tea Tree Mask/ Dr. Jart Clearing Solution Mask/ Glamglow Superclearing mud mask
Eye Cream
Cerave Moisturizer
Neutrogena Clear Face Sunscreen
My Results + Product Reviews and Tips
My skin feels softer, smoother, and more even toned after two weeks with this 10 step skincare system.  I still have breakouts because I ate way too much dairy and had an influx of hormones from that awesome time of the month we all love.  To help with the scarring and hyper-pigmentation left from my blemishes, I use the LumaPro-C Skin Brightening Pigment corrector.  This serum evens out my skin while also making it feel baby soft.  The serum has vitamin C in it too!  And Vitamin C is one of the key ingredients for radiant skin.
If you can't find a good essence or don't want to splurge for the SK II one that I'm using, try applying a second more moisturizing toner.  It will give you the same benefits of an essence at a fraction of the cost!
After all this, I'm sure you already know the answer to the question: Does it work? Yes, the 10 step skincare system works. And I promise it doesn't take up too much time.  Actually, it only takes me 20 minutes to finish this skincare routine from beginning to end (if I do the sheet mask).  On days without the mask, I'm done in 10 minutes.
Would you try this 10 step routine?
Check out some awesome VA Bloggers Friday Favorites!