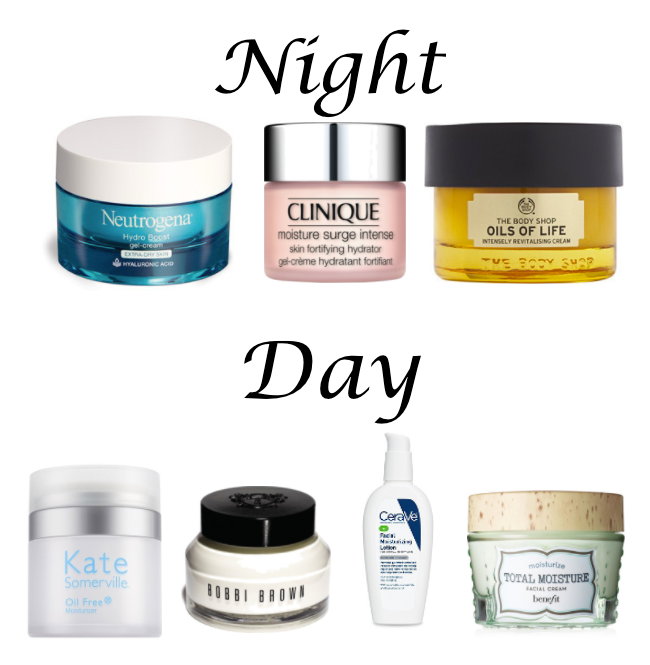 Image Source: Polyvore.com
Many people with acne-prone skin (including me) tend to forget about the importance of a good moisturizer. We focus too much on drying out the zits and reducing inflammation. Then our skin is dry, flaky, and red. Fun stuff, right?
From years of experience, I have learned that the best way to take care of your face is to treat, moisturize, and give it time. Benzoyl Peroxide, Salicylic Acid, Sulfur, and Tea Tree Oil are all common ingredients in acne-fighting products. But these ingredients are designed to "zap the zit" and therefore dry out your skin. Skin can actually break out more when it's dry because your skin is trying to replenish itself with excess sebum production. More sebum= more clogged pores= more breakouts.
Once you apply these treatments to the affected areas, you need to moisturize. And here are some of the best moisturizers (that I have found) for Acne-prone skin. My morning moisturizers are always lighter since its being layered under my makeup. Moisturizers that are too hydrating can make my face in to an oil slick just hours after I put on my makeup. And when I'm working I don't have time to touch up my makeup.
Morning Moisturizers
So, for the mornings I prefer to use face creams such as:
Bobbi Brown's Hydrating Face cream- this cream is light and great for normal to combination skin. It never feels sticky and absorbs quickly in to the skin. The cream has a light scent and leaves skin soft and smooth.
SKIN TIP: This moisturizer did not have a pump. So, to keep the product fresh and clean, I recommend using a makeup brush or Q-tip to grab product out of the jar.
CERAVE moisturizing lotion PM- don't let the PM portion of this cream scare you. It's perfectly fine to use in the morning. My dermatologist actually recommended this cream to me.  The PM cream is much more moisturizing than the AM. It is great for sensitive skin and doesn't have a scent. Plus, this lotion comes in a pump, so the product stays fresh and contamination free. This cream layers well under makeup.
Kate Somerville Oil free moisturizer- a light moisturizer that is great layered under makeup. It absorbs quickly in to the skin and leaves it baby smooth. This is the perfect moisturizer for normal to combination skin. (And BTW, the moisturizer doesn't come in a pump)
Benefit Cosmetics Total Moisture Facial Cream- a lovely moisturizer for normal to combination skin. The formula is light and doesn't have a scent. This moisturizer wears beautifully under makeup. (This moisturizer also doesn't come with a pump)
Night Moisturizers
At night, I like to use creams with Hyaluronic acid, which replenishes moisture and leaves the skin more radiant and plump. For me, nights are my skin's healing time and I want to help it heal as quickly as possible. So, I go to my thicker moisturizers such as:
Neutrogena Hydro-Boost Gel Cream- this moisturizer is great for dry skin. I mostly use this cream at night because this cream makes my skin too slick for makeup. A good night's sleep with this cream layered on my face= the best beauty sleep ever!
Clinique Moisture Surge Extended thirst relief- the cream has a gel-like texture. Initially, the cream can feel sticky but it only takes seconds for the product to be absorbed. By morning, my face feels super soft.
The Body Shop Oils of Life Revitalizing Sleeping Cream- this cream works best at night. And it's great for dry skin. The cream is thick but it doesn't have a sticky texture. The assortment of oils in this cream leaves skin smooth, helps heal blemishes, and reduce hyperpigmentation. (My fave!)
And that is it, my best moisturizers for acne-prone skin. Which one have you tried before?
**This post is not sponsored.  I received the oils of life revitalizing sleeping cream free from the Body Shop as a press sample.  All opinions expressed are my own.**