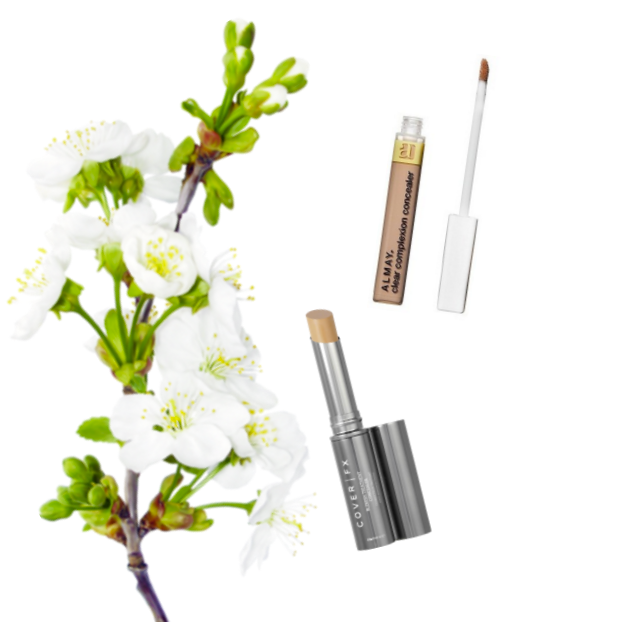 Image Source: Svetlera Spring Mood
Lately, my skin has broken out like CRAZY!  I felt the blemishes on my chin and jawline but they were those annoying little bumps that you know will grow to giant massive red planets on my jawline.  After 3 days, I was tired of waiting for them to come out, so I decided to use my glamglow mask to start the purge.
My Acne Situation
After using glamglow, all those little red bumps became large red zits on my jawline.  And of course, I couldn't show up to work with these huge painful red planets on my face without at least trying to conceal them.  So, I knew it was the perfect time to try out my FX blemish concealer and the Almay clear complexion concealer.
The Cover FX Blemish Concealer
Other than my jawline, I had pretty good skin, so I just applied a brightening primer to my whole face and concealed the zits on my jawline and the redness around my nose with the FX blemish concealer.
The FX blemish concealer is pretty drying, so it latches on to dry patches.  Before applying this concealer to your blemishes, I would apply a good moisturizer to the skin, so my face is hydrated and not flaky.  The concealer is easy to blend and covers pretty well.  I like to use my finger to gently dab away the redness and blend out the concealer, so my skin doesn't look patchy.  I finish off my face makeup with a light powder.
After using the FX blemish concealer for a few days, I noticed my blemishes becoming less inflamed and swollen.  The salicylic acid in the concealer helps with calming down the skin and clearing out the pores, so the blemish heals faster.
The Almay Clear Complexion Concealer
The perfect drugstore dupe for the FX Blemish concealer is the Almay Clear Complexion concealer.  Both concealers are slightly drying BUT they have the same percentage of salicylic acid.  And they both have medium to high coverage.  The only difference is that the FX blemish concealer comes in a stick formula, while the Almay version comes in a tube with a sponge tip applicator.
One thing to be careful about with these concealers is that it can easily become cakey.  Both concealers have a thick consistency to really cover up blemishes, but it's also drying so if you try to layer or powder over these concealed spots you could end up with a caked on mess (which brings more attention to your blemish- and nobody wants that).  I found that with these concealers I don't have to apply powder.  Because of their thick consistencies, they really stick on the face and don't migrate throughout the day.
After a full work day, the concealer does patch off slightly, instead of piling on powder or reapplying the concealer I generally remove the existing concealer before reapplying at the end of the day.
I have combination/oily skin, so if you have dry skin these concealers might be too drying for you.   If you have any questions about these concealers, or have one to recommend to me, comment down below!